History of Bewley, Lassleben & Miller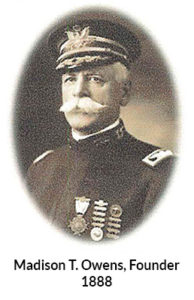 Bewley, Lassleben & Miller was founded in 1888 in the City of Los Angeles by General Madison T. Owens. After completing his legal education at the University of Iowa in 1878, Owens practiced law in Waterloo, Iowa for ten years. Relocating to Los Angeles in 1888, he established his law practice and immersed himself in civic affairs, as a charter member of the Jonathan Club, a part time police 
judge and rising to the rank of Brigadier General Owens moved his practice to the City of Whittier in 1900, where he served as City Attorney and eventually partnered with local attorney Jefferson G. Wingert. General Owens remained a member of the firm until his death in 1929.
Thomas W. Bewley joined the firm in 1927 as a newly minted member of the bar. The firm continued through the Great Depression as Wingert & Bewley, until becoming Wingert Bewley & Nixon in 1939, when joined by future President Richard M. Nixon. Mr. Nixon remained a partner of the firm until 1952, when elected Vice President of the United States.
Tom Bewley remained with the firm through the early 1980's, and regaled many of our present partners with stories of practicing law in the early 20th century. William M. Lassleben became a partner of the firm in 1952 and was a founder and general counsel to Presbyterian Intercommunity Hospital, which remains a major client of the firm to this date.
Edward L. Miller joined the firm in 1962 after graduating first in his class at USC Law School. Mr. Miller assumed management responsibility in the late 1960's and in the ensuing years saw to the growth of the firm from four to twelve attorneys including all of the present partners. With the firm's growth and maturation,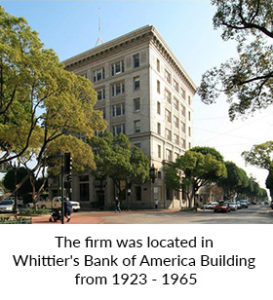 Bewley, Lassleben & Miller has expanded its horizons to encompass a wide array of specialties including general litigation, commercial real property with a heavy emphasis in large shopping malls, state and local taxation, healthcare and construction, while continuing its emphasis in estate and tax planning. Past and present, Bewley, Lassleben & Miller is dedicated to offering excellent legal services to its clientele, with practical, cost-effective solutions to your complex legal problems.
Bewley, Lassleben & Miller